Best Free Tours in Guimaraes
Visiting Guimaraes is an experience like no other. The Historic Centre of Guimaraes has been listed as a UNESCO World Heritage Site due to its exceptionally well-preserved historic architecture. Whether you're a first-time visitor or a returning guest, you'll have a wonderful time joining Guimaraes Free Walking Tours! The Essential Guimaraes City Tour is the perfect way to get acquainted with this beautiful city with a guide. This tour will take you through the cobbled streets of the old town, where you'll learn that Guimaraes is known as the birthplace of Portugal, as it was here that Afonso Henriques, who went on to be the first king of Portugal, was born. If you're looking for something more unique, then check out the Free Myth and Legends Tour. This tour takes visitors on a journey through time, exploring spooky stories that have been passed down through generations. You'll hear stories about brave knights who fought for their freedom, as well as tales of magical creatures that inhabit the forests around Guimaraes. No matter which tours you choose, you're sure to have an unforgettable experience in this historic city. So, join one of these Free Walking Tours in Guimaraes today and discover all that this amazing destination has to offer!
Highlights of a Free Tour in Guimaraes
Exploring the city of Guimaraes is a great way to learn more about Portugal's history and culture. The free tours in Guimaraes offer an exciting opportunity to discover the birthplace of Portugal, with its incredible sites, stories, and legends. Many guides will begin their walk at Padrao do Salado, a 14th-century monument that commemorates an important battle for the Portuguese nation. Nearby there's Oliveira Church, Santa Maria Street, and Countess Mumadona Dias Statue. Next up is Guimaraes Castle, a medieval fortress built in the 10th century by Countess Mumadona Dias. This castle was once home to Afonso Henriques, who declared himself King of Portugal in 1139 and established an independent kingdom. Tourists can also visit the Church of St. Miguel and the Palace of the Dukes of Braganza before heading to Largo do Carmo and Rua das Trinas, the ideal spot for some shopping. Walk to Santiago Square, where you can find many restaurants serving traditional Portuguese cuisine. Afterwards, you can visit Largo da Misericordia and Largo do Toural before ending your walk at Alfandega Tower – one of the most iconic monuments in Guimaraes! If you're looking for an unforgettable experience in Portugal's historical city of Guimaraes, then join a passionate local guide!
Things to Do in Guimaraes
Just a short ride away from Braga, Guimaraes is a beautiful city in northern Portugal that offers plenty of activities for tourists. Whether you're looking for a romantic weekend getaway or an exciting adventure, Guimaraes has something for everyone. For couples, the city offers many romantic restaurants and terraces to enjoy a delicious meal with some local sweet wine. After lunch, take a stroll through the historic center of Guimaraes or go to Vila Flor Palace to explore the stunning gardens. Be sure to take a half-day trip to Citania de Briteiros, a very interesting archaeological site on the outskirts of the city. If you're looking for an adventurous weekend, there are plenty of activities to keep you busy. Start by exploring the Castelo de Guimaraes which dates back to the 10th century and is one of Portugal's most important monuments. Then head up Monte da Penha where you can take in breathtaking views over the city and surrounding countryside. Finally, don't miss out on visiting Alberto Sampaio Museum which houses an impressive collection of artifacts from Portugal's history. Guimaraes has something to offer everyone! With its rich history and culture, it's no wonder why so many people choose this city as their destination for a wonderful vacation.
Free Tours in More Cities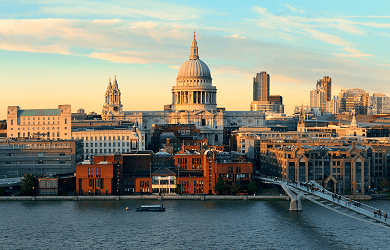 Free Tours London
31415 Reviews
4.71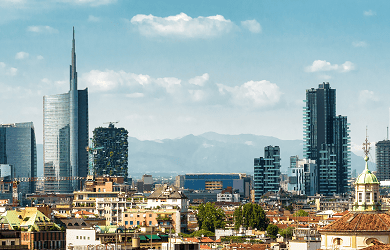 Free Tours Milan
5392 Reviews
4.74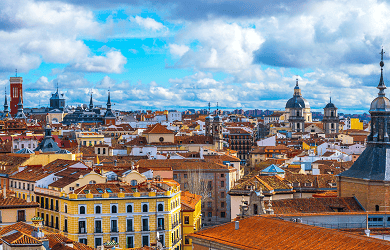 Free Tours Madrid
28029 Reviews
4.75